FROM SUNDAY POST
INVESTIGATION: Sacked Scots priest Father Joseph Dunne denies abuse allegations as he's tracked down in Ireland
https://content.jwplatform.com/previews/56yS3VQa
A CATHOLIC priest who disappeared after being accused of abuse in Scotland and California has been tracked down in rural Ireland.
Father Joseph Dunne was found living with his sister in a bungalow just outside the village of Geashill, in County Offaly.
Asked about the allegations against him, the 77-year-old denied any wrong-doing, saying: "I've done nothing wrong. My conscience is clear."
Last week we told how Dunne was sacked from his Glasgow parish in 1988 by the late Cardinal Thomas Winning, after complaints about inappropriate behaviour towards young girls.
But the police and other Catholic churches were not told and Dunne found a new church in Los Angeles before being accused again.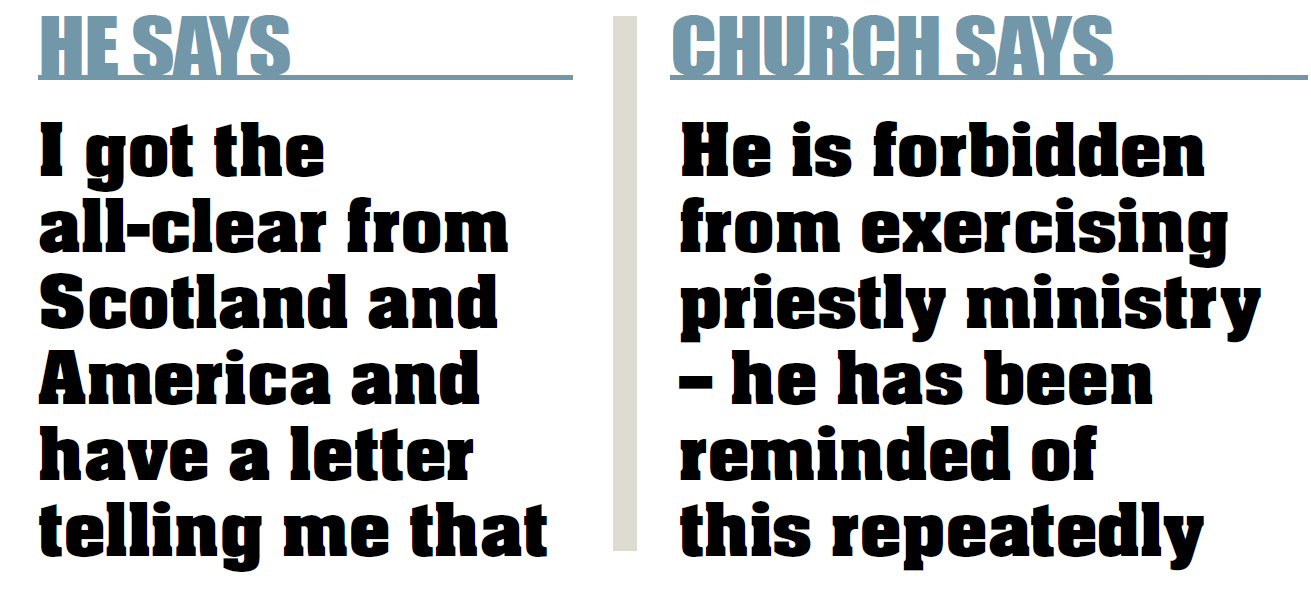 US church leaders only learned of his past when they called his former bosses in Glasgow. Dunne was investigated by police in LA, but never charged.
He returned to Glasgow where he was told never again to work as a priest – but still Scottish church authorities did not inform the police. Scottish police were finally told about Dunne in 2013 but decided to take no action.
Speaking from his home, Dunne denied the allegations against him, claiming he had been formally cleared.
He said: "I got the all-clear from Scotland and America and I have a letter telling me that. "
Asked if Cardinal Winning had sacked him in 1988 after allegations of inappropriate behaviour he said: "No. No. No. That never came out."
And when we quizzed him about events in LA, where he faced a second allegation in 1993, he replied: "I'm 25 years away from America – how can I go back and remember all that?"
In response to Dunne's claim he had been cleared, the Archdiocese of Glasgow said: "Father Joseph Dunne has been forbidden from exercising priestly ministry since 1988. He has been reminded of this repeatedly."
The allegations against Dunne emerged when the Los Angeles Archdiocese published a list of more than 200 priests accused of abuse. The Catholic Church in Scotland has never published such a list.
Dunne was moved around five Glasgow parishes after being ordained at Waterford Cathedral in 1975.
He first served as a priest at St James's Crookston, moving to St Lawrence's, Drumchapel, until 1978 and then St Bartholomew's, Castlemilk. He was then sent to St Paul's, Whiteinch, in 1985 and then to St Mary The Immaculate in Pollokshaws. In 1988 he was sacked.
However, in 1990 he was given a licence to continue acting as a priest by the Archdiocese of LA, where the second allegation, of molesting a schoolgirl, was made in 1993.
The church's former abuse adviser, Alan Draper, said: "This is a deeply worrying case, and one which will have many asking where he went after Los Angeles."
'He wanted me to play chase and tickle in the dark'
FROM RTE
An 81-year-old former Offaly priest who sexually abused a young woman as he drove her to the Rape Crisis Centre for counselling has avoided a jail term, as he is the sole carer for his elderly sister.
Joe Dunne indecently assaulted the previously abused young woman on a number of occasions after befriending her in hospital. He later asked her for forgiveness, before assaulting her again.
The woman outlined how meeting Dunne when she was a young woman in a highly vulnerable situation had started "34 years of hell". She said she thought she would be safe as he was a priest.
Dunne, of Ballycrystal, Geashill, Co Offaly, pleaded guilty at the Central Criminal Court to five counts of indecent assault of the woman in 1989. He has no previous convictions.
The court heard the case had come to light as a result of a separate investigation in 2019 when gardaí came across letters the injured party had written to her bishop about Dunne years earlier.
Gardaí then approached the woman and she disclosed to them what had occurred.
Mr Justice Paul McDermott commended the courage of the woman in coming forward and putting herself through the onerous process of being a complainant.
He said the court and the criminal justice system depends on the courage of people like herself in coming forward in cases of this kind. He noted the devastating effects of the abuse on the injured party as set out in her victim impact statement.
Mr Justice McDermott said the circumstances of the case were extremely aggravating and noted Dunne had got himself into a position where he could sexually assault an abused woman. "That's shocking," said the judge.
He said it was clear from the nature of the assaults that they were carried out on a young woman in a most vulnerable position, and who Dunne knew to be in vulnerable position after she turned to him for support at difficult time.
He said he was obliged to take Dunne's guilty plea into account but said it appeared from some material presented to court that he does not have full appreciation of the damage done.
The judge also took into account Dunne's age and his health issues in setting a sentence of four years imprisonment.
He said he also had to take into account the effect imprisoning Dunne would have on his 94-year-old sister, for whom Dunne is the sole carer. He said the report before him in that regard was "stark". He said the woman would be in very serious circumstances if deprived of his support.
He said the court was faced with a dilemma and he took the "unusual and exceptional step" of suspending the entire sentence because of the disproportionate effect it would have on Dunne's sister.
The judge said this was not something easily done on his part but said it seemed to him it would involve a significant penalty on a third party if Dunne served the sentence.
Mr Justice McDermott suspended the entirety of the four-year sentence on strict conditions, including that Dunne attend with the Probation Service and undertake offence focused work.
PAT SAYS
JOE DUNNE studied with me in St John's, Waterford, for two years – 1973 – 1975.
He was a "late vocation" and from the same area of Co. Offaly I am from – Tullamore.
I was never close to him, and looking back, I would say he was odd, sneaky, and never revealed much about himself.
All of us in St John's has, thank God, a room of our own.
Joe Dunne was one of the very few who chose to share a room with another seminarian.
He was ordained for Glasgow but got into trouble there very quickly. We never heard why he left Glasgow and went to California.
Nor did we hear why he left California and returned to live with his sister in Geashill.
TULLAMORE
I was aware that the priests in Tullamore never allowed him to celebrate Mass there.
But he went around family homes in Tullamore, with Padre Pio mittens, celebrating house Masses and receiving financial gifts and Mass Offerings.
WHY DID THE CLERGY OF TULLAMORE NOT WARN THE PEOPLE AND FAMILIES OF JOE DUNNE'S PROCLIVITIES?
WHY DID THE BISHOPS IN GLASGOW, CALIFORNIA AND MEATH NOT ACT AGAINST JOE DUNNE.
I did not suspect that Joe Dunne was a paedophile.
Another case of the RCC allowing a paedophile priest to move from the UK, to the USA and then to Ireland.