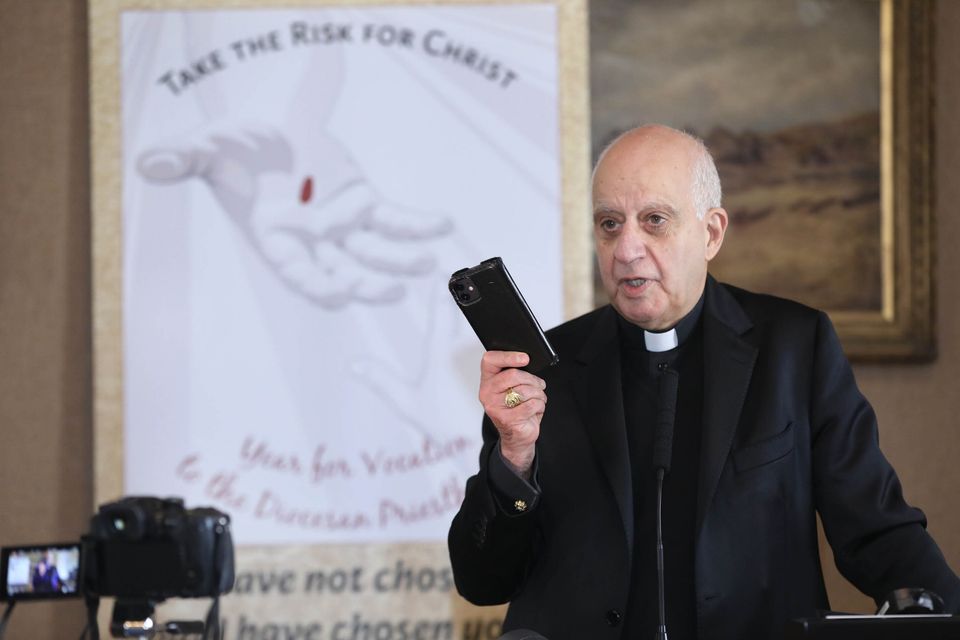 Sarah Mac Donald IRISH INDEPENDENT
https://www.independent.ie/irish-news/just-20-seminarians-now-studying-to-become-catholic-priests-for-irelands-26-dioceses/a442824989.html
There are just 20 seminarians studying to become Catholic priests for Ireland's 26 dioceses at the national seminary in Maynooth.
The seminary, which was founded in 1795, at one time accommodated as many as 500 seminarians. But that number has been in steep decline since the 1970s.
Rector Fr Tomás Surlis revealed the figures at a conference on vocations today. Addressing more than 100 delegates, including bishops, priests, vocations directors and seminarians, Fr Surlis acknowledged that fixating on numbers when "we have so few" is "a human reaction" and "one of the dangers" associated with the work of priestly formation today in Ireland.
He described the 20 seminarians as "good men" who are "doing their very best" and expressed the hope that "many young men in this country today will hear that call" and "not be afraid" to become priests.
RESPONSE TO REPORT BY A HIGHLY PLACED IRISH PRIEST;
"There are vocations in Ireland but nobody wants to enter Fanny's Poofter Paradise.
Church is finished in Ireland. Bishops are totally useless every single one of them. Some are malign. "
PAT SAYS
Of the 20 seminarians, there just now, somewhere between 6 and 11, might finish.
Six to eleven for 26 dioceses – and over six or seven years!
0.42 priest per diocese.
Why would any young man in his right mind want to become another Phonsie Cullinan? Lugs Monahan? Ger Fitzgerald? JP Lyttle? Rory Coyle etc, etc.
What normal young man would want to enter a college where e would become a sexual plaything for fellow students and older clerics?
The RC priesthood is now a gay job – and a gay job for men with little intelligence and no morals.
It is a place for effeminate and permanently immature men to hide from real life but still be "worshipped" by the blind and those addicted to idols.
The pedestal is still there , but it's not made any more from granite. It's now made from papier mache.
Apart from the homosexualisation of the priesthood being one of the main forces destroying it, there are other factors:
1. The medieval teachings of the RCC on scientific, social and sexual matters.
2. The inability to truly integrate over 50 % of the world's population – women.
3. The RCC'c monarchical and hierarchical structure – facilitating and allowing all forms of corruption, abuse, and injustice – leading to its universal reputation as one of the most evil forces on earth.
4. The RCC's failure to produce an authentic and robust theology and spirituality that fires the imagination of the men and women of the third millennium and beyond.